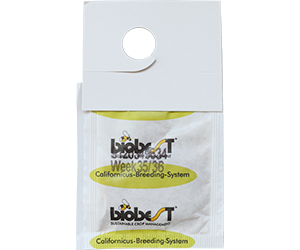 Available for shipping or in store pickup. 
This predatory mite is effective against several types of spider mites, but will also feed on thrips and pollen. Eats on average 5 prey a day, and in the absence of prey it can even survive without food for a while. Won't harm your plants!
Instructions:
     Hang on your plant and they're all good to go! The mites will crawl out of the pre-punched hole in the sachet, so no need to cut or empty it.
Things to avoid are:
Moisture from setting it on soil
Misting the sachet directly
Neem oil, or other pest control products - If it has been 24 hours since a spray application, it will be okay to place the sachet near on those plants
Amazing
It works! Also the customer service is 100%.
Thanks for your kind words Maria!