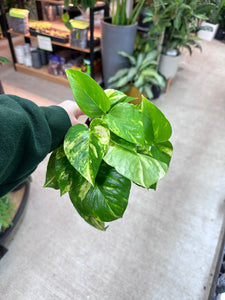 Plant is pictured and sold in a 4" nursery pot.
During winter months heat packs are complementary depending on the temperature in the city of destination. If your area is experiencing extreme temperatures we will wait until weather gets a little bit warmer or colder to ship out your package.
Love the warm buttery yellow variegation in the leaves
I bought this plant because it is a warm, cheerful and easy to grow plant. Perfect for bringing in a little sunshine home on a cold dreary day. There were plenty of well priced pots to dress it up and the more I looked the harder my decision was....and the more plants I wanted! They were helpful but let me wander...which I really appreciate. I really had fun there and will be back soon.
One of our favorites! Look forward to seeing you soon.