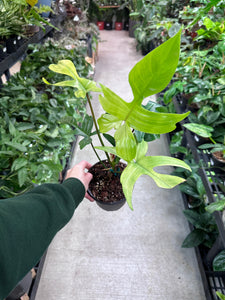 Plant is pictured and sold in a 4" nursery pot.
During winter months heat packs are complementary depending on the temperature in the city of destination. If your area is experiencing extreme temperatures we will wait until weather gets a little bit warmer or colder to ship out your package.
Beautiful collector plant!
The plant I purchased was healthy and ready to push out a new leaf! I asked the staff about caring for my new plant and they gave me all kinds of tips to make sure it acclimates to my home. They also treat and inspect all of the plants before selling them. Highly recommend this business!
Enjoy your Philodendron Florida Ghost! Your support is appreciated.